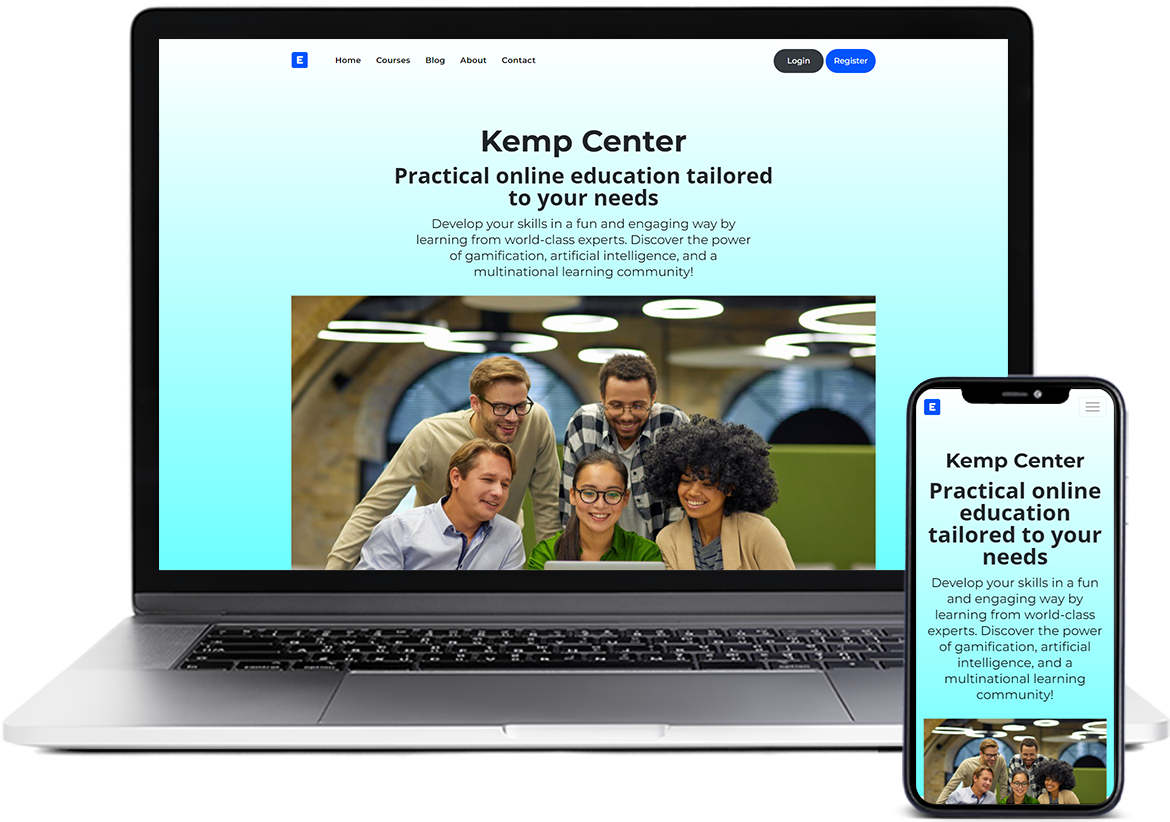 Case Study: WordPress Theme Customization & LearnDash Integration for e-Learning Center
Krajowe Centrum Edukaeyjne or Kemp Center is a Poland-based online educational center that helps users gain multiple skills necessary to tap into new professions and hobbies. For Center, we customized a WordPress theme, made the platform multilingual, and added a customized LMS plugin LearnDash to enrich the e-learning functionality of the resource, boosting learners' engagement and performance.      
Client & Challenge 
A client from Poznań, Poland, with e-learning businesses that offered people courses on acquiring multiple skill sets, from that of a UX designer to a fitness trainer, approached us on Upwork to help them with their platform redesign. 
We needed to: 
Customize and refine the WordPress theme they've already chosen —

Elomoas

— and make sure it looks well with the platform's content & intended functionality; 

Make the website multilingual; 

Make sure it's easy & comfortable for users to study/teach on the platform — add tools for tracking students' performance, communication between students and teachers, feedback options, etc. 
During the next three weeks, we worked on updating and customizing their platform. 
Solution 
Our project manager and backend developer worked to: 
Customize

Elomoas

WordPress theme and tweak it to fit the client's UI and UX expectations; 

Customize and integrate the

LearnDash

plugin with the platform for a better learning experience (

Learn Dash

provides many features for the LMS — learning management systems — that are easy and quick to utilize within the WP environment);  

Integrate

Translatepress

with the platform for multilingual support. 
Apart from WordPress, we used PHP, CSS, and HTML to customize the WordPress theme and add plugins to the platform seamlessly. 
Value  
A lightweight, easy-to-use platform, now renamed Kemp Center, will be released into production this summer. We've redesigned it per the client's specification, customizing the Elomas— now, it's easier to navigate, mobile-friendly, and supports multiple languages per Translatepress integration. Users can interact with Kemp Center in English, German, French, and Portuguese, along with Polish. 
With us integrating LearnDash, Kemp Center gained tools for scheduling the release of learning materials, engagement triggers that prompt more active learning, various forms of feedback, and features for student-teacher communication. The plugin also came with tools for rewarding students and tracking their performance. Such a toolset helps students learn more effectively and make teaching easier for tutors and trainers. 
Our work refreshed the platform, added functionality for better student and tutor performance, and laid the groundwork for Kemp Center's international reach.